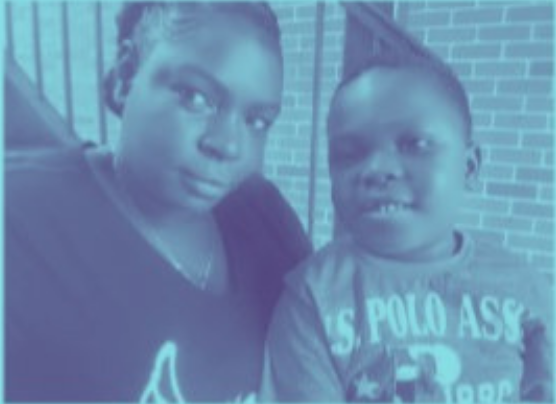 Aretha and her son, Javan
August 6th, 2018, the day my life was changed forever. I had been outside all night, just walking around and talking to God, praying for a change to come. Never in a million years did I think I'd ever become homeless with a 3-year-old son. We were walking the streets of Mankato, couch-hopping from place to place–some places we stayed were homes of people I didn't even know– continually telling my son, "Mommy gonna to fix it; I promise you, Javan!"
That morning, the phone rang. With hesitation, I answered (not knowing who it was). I soon found out that it was the call I'd been praying for. Giving thanks to God, it was the [P4H] shelter manager asking if I was able to come for an intake on Monday morning. My immediate response was, "Absolutely! Thank you so much for returning my calls."
That call came in on a Friday and I knew I could make it until her intake because I had to work the entire weekend and Javan was staying at the babysitters. All I could think was, "at least we won't be outside all night." I was still worried about what to expect once we got to the shelter; it was going to be an all new experience for me and Javan. The fear of the unknown was killer to my spirit, but I stayed hopeful that we would get help in some way. Finally, Monday came around. I remember being completely exhausted from working overnights, but all ahead of my mind is getting to that intake so I could find out what was going to happen next. It was so hot that day, we showed up to our intake completely soaked from sweat because We had walked from our babysitter's to get to shelter. The moment I realized that my prayers had been answered is when the shelter manager turned around and her chair and handed me the room keys.
Filled with joy, I whispered to God, "Okay, God, I am ready to take this journey." Javan and I got help from a friend to move our things to shelter, since we didn't have a car. That night was the first night we slept like babies because we both felt safe. Tuesday morning was the day I realized that I had to put up a fight against anything that could possibly hinder us from moving forward. I went and introduced myself to the shelter staff. I told them about my situation and that I wanted their help so that I could get out of shelter as soon as possible. As the journey began, I became frustrated quickly, but every day they reassured me that things were going to be alright and to keep fighting. The shelter workers are three of the most amazing young women I've ever met in my life. They always said that I got out of shelter because of all my hard work and for my drive to have a better life, but without their amazing help I am unsure if I could have done it.
They wasted no time getting rides set up so that I did not have to walk They continually helped me make connections within the community that could support and help. They even gave me a resource for Head Start so I could get Javan enrolled.
filled with joy, I whispered, "Okay, God, I am ready to take this journey."
They sent me resources on houses and apartments that I could apply for and came to some of the apartment showings with me and advocated on my behalf to the landlords. They took time out of their schedule to meet with potential landlords, writing letters on my behalf, getting me resources and keeping me motivated. They gave me resources for clothes, food, furniture and funding support. And thanks to the shelter staff, Javan was all set up with a backpack, school supplies and a winter jacket for his first day of Head Start. I couldn't believe I was blessed with the support system with great gifts and beautiful hearts I will always recommend [Partners for Housing's] shelter program to anyone in need.
Not one time did anyone on the staff judge me because of my past. Without hesitation, they advocated for me and did everything in their power to help me and my son. Although I had applied for many apartments, I was never approved because of my rental history. Seven evictions had been filed against me, and although they had been resolved by payment, they still appeared on my background check. Even after appeals, I was never given a chance at stable housing before. I had viewed one of the [P4H] apartments and really loved it! The shelter staff came to my room and knocked on the door, inviting me to come meet the property manager. I went down with my son and met her at the Welcome Inn kitchen table with a huge folder. She was explaining the apartment payments and went over the lease and then asked me to sign the forms.
I looked at her, confused, and she said, "Aretha, this is your lease. You have been accepted!" and tears of joy came running down my face. My blessings don't stop there. The manager from [another organization in Mankato] agreed to help pay the fees and deposit needed to get this into this apartment so that I didn't have to spend my entire paycheck, leaving Javan and me with nothing. After exactly 30 days at shelter, I had moved into my apartment. My hard work and the willingness and full-time advocating that the shelter staff did for me not only have left me and my son with a roof over our heads, but a new beginning to our lives. From the bottom of my heart, I thank you all the [P4H] program has been a blessing in my life. If it was not for all the dedication and loyalty of the shelter staff, my son and I would be sleeping on the street. There will never be enough words to say thank you everyone that helped me make this wish come true.