What is Pedal Past Poverty?
Pedal Past Poverty is a one-day and one-of-a-kind stationary bike race. This fun and energetic fundraiser is Partners for Affordable Housing's signature event.
How does it work?
During the PPP event, there are up to 40 teams, ten riders each, organized by companies and individuals interested in ending the issues of homelessness and affordable housing in the Mankato area. Riders ask their family, friends and others to sponsor and donate to their team. Teams then compete for a broad array of wild and wonderful prizes based on money raised and miles biked on race day.
Who are the real winners?
Our Mankato neighbors who are experiencing a temporary housing crisis and are guests of the Theresa House, Union Street Place or Welcome Inn.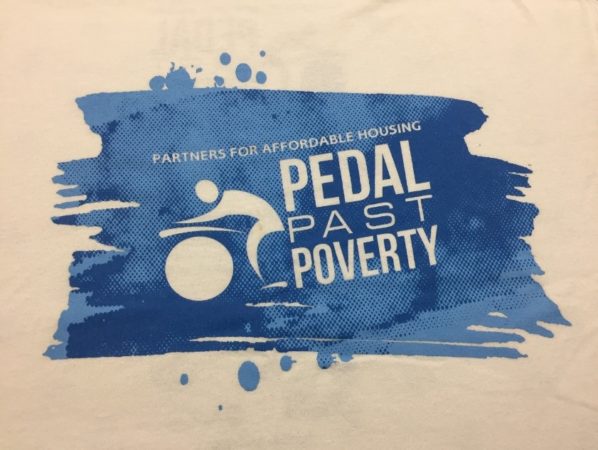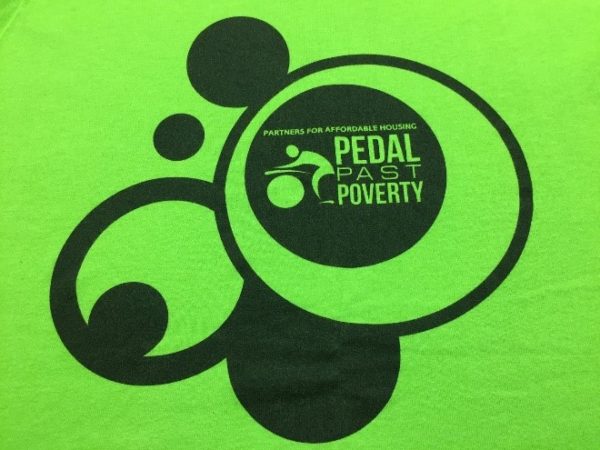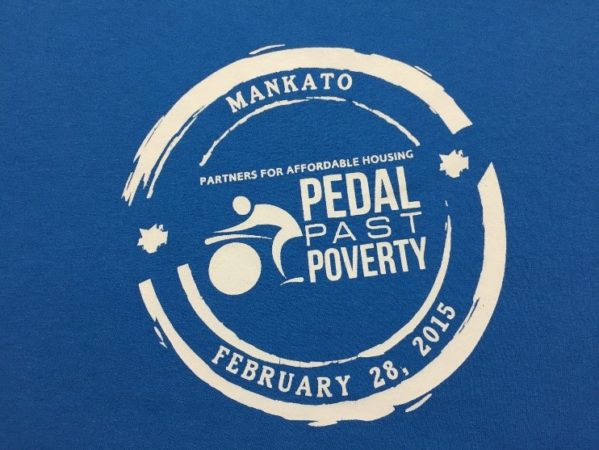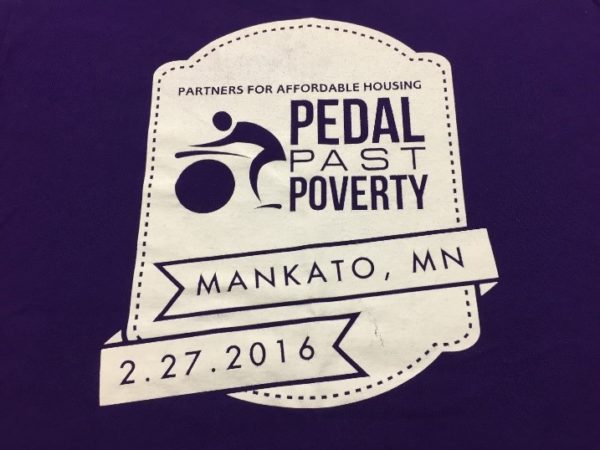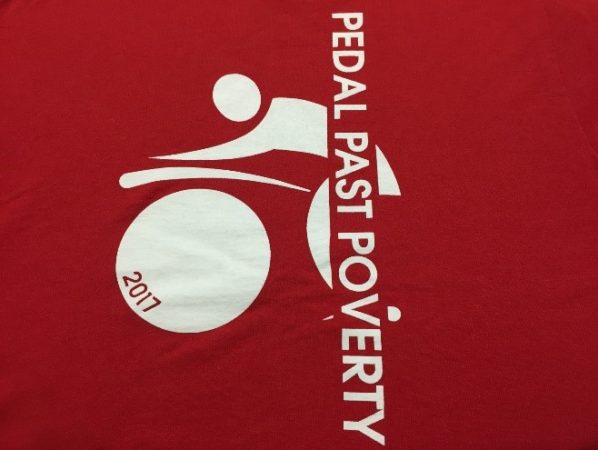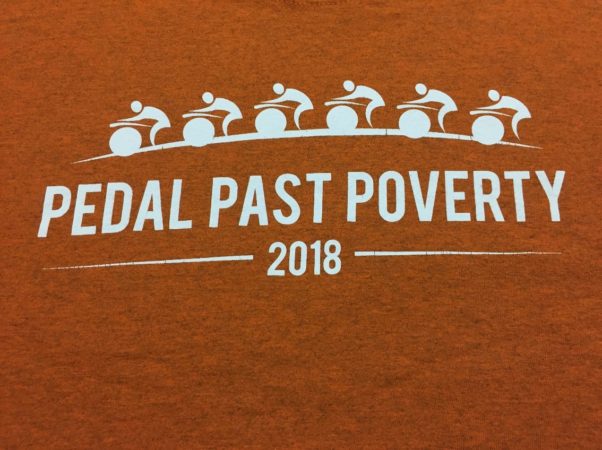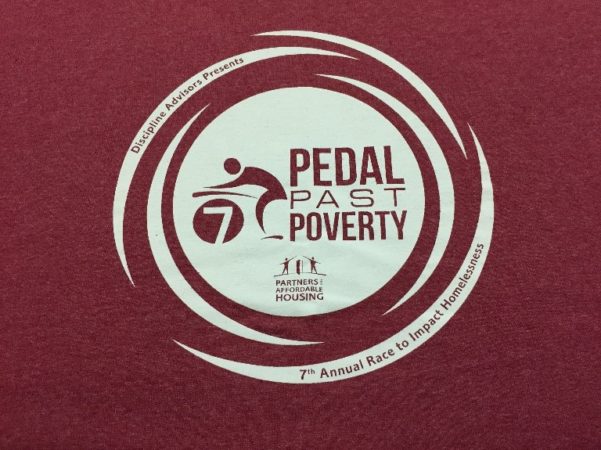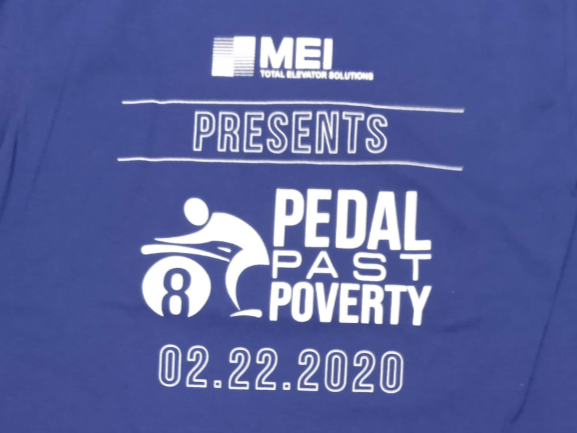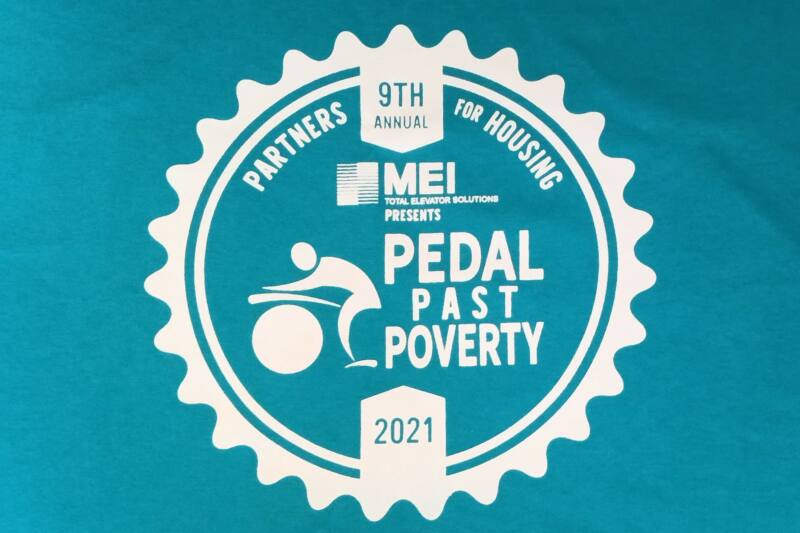 PPP 2021 Was a Success!
P4H's 9th annual Pedal Past Poverty was another one for the books. With all the challenges—health screenings, social distancing, hygiene, some virtual participants, date, time and location changes, and an outdoor/open air venue on a cool spring day—the riders and volunteers had a great time joining our staff for this exciting stationary bike race.
The event raised over $100K to support families in the region who have faced homelessness!
Vusa Bentley—local endurance athlete— planked for 3 hours, her longest plank yet. Bentley explained that this event for her was the first of many planks she hopes to do across the country. Her long-term mission is to complete one-hour planks in all 50 states.
We at P4H owe a huge debt of gratitude to all the sponsors, fundraisers, volunteers and business partners: Blue Earth County; Mankato Family YMCA; MSU; Kato Moving & Storage; OPS Clinics; PrintWear Graphics; LJP Waste & Recycling; Nicollet Bike Shop; Key City Bikes; Pepsi; River Bend Business Products; Kwik Trip; Keepers RV; CTS; KEYC; Radio Mankato; and many more!
We are currently seeking sponsorships for the 10th Annual event, which we will hold in 2022. Contact 507.387.2115 x4 if you would like to pledge sponsorship for Pedal Past Poverty 2022.
Individuals raising over $1000
| | | |
| --- | --- | --- |
| Fundraiser | Total | Team |
| S. Rose Anthony Krebs | $ 3,715.00 | SSND Tour de Notre Dame VI |
| S. Pat Frost | $ 2,558.26 | SSND Not Fast, Just Furious |
| S. Anna Marie Reha | $ 2,498.42 | SSND W.O.W. |
| S. Monica Wagner | $ 2,383.50 | SSND Tour de Notre Dame VI |
| Andy Fischer | $ 1,306.16 | Thursday Sliders |
| S. Mary Ann Kuhn | $ 1,287.00 | SSND W.O.W. |
| Amanda Kruse | $ 1,211.99 | Optivus Physical Therapy |
| S. Mary Kay Gosch | $ 1,172.00 | SSND W.O.W. |
| S. Rita Wollschlager | $ 1,118.69 | SSND Tour de Notre Dame VI |
| Barb Connolly | $ 1,115.00 | SSND W.O.W. |
| Duane Olson | $ 1,042.94 | Sliding Fridays |
| Mark Piepho | $ 1,003.18 | Piepho's Peeps |
Teams Raising over $1000
| | |
| --- | --- |
| SSND Tour de Notre Dame VI | $ 9,629.33 |
| SSND Women on Wheels W.O.W. | $ 7,742.85 |
| SSND Not Fast, Just Furious | $ 5,328.72 |
| SSND Hill's Angels | $ 3,457.66 |
| Piepho's Peeps | $ 3,051.32 |
| Thursday Riders | $ 2,571.33 |
| SSND Schwinners | $ 2,440.99 |
| SSND "Holy Spokes, It's The Cycling Saints!" | $ 2,305.58 |
| Meandering Goats | $ 1,911.46 |
| VINE | $ 1,891.45 |
| Sliding Fridays | $ 1,702.94 |
| Immanuel Mankato Faculty | $ 1,656.18 |
| YWCA Mankato (We ALL Can Do It!) | $ 1,616.32 |
| Rosewood Pedalers | $ 1,430.10 |
| Mayor's Maniacs | $ 1,325.00 |
| SSND Chop Til You Drop | $ 1,301.14 |
| Mankato Clinic Riders (1) | $ 1,284.74 |
| Shenanigans | $ 1,241.65 |
| Optivus Physical Therapy | $ 1,211.99 |
| MVAC Peeps & Pals | $ 1,052.57 |
| OPS Clinic | $ 1,001.90 |
| | | | |
| --- | --- | --- | --- |
| Heat | Rider | Team | Miles biked |
| 1 | Stacee Demmer | OPS Clinics | 8.60 |
| 2 | Ryan Tesch | P4H Pedalers | 7.65 |
| 3 | Jordan Stenzel | OPS Clinics | 8.80 |
| 4 | Cam Moore | Sliding Friday | 8.50 |
| 5 | Amanda Kruse | Optivus Physical Therapy | 8.60 |
| 6 | Ben Renz | SSND Schwinners | 8.04 |
| 7 | Lilli Scholl | MVAC Peeps and Pals | 7.80 |
| 8 | Kara Sullivan | Rosewood Pedalers | 11.40 |
| 9 | Dan Choiniere | Optivus Physical Therapy | 9.20 |
| 10 | Todd Kruse | Optivus Physical Therapy | 10.00 |
Rider
Team
Heat #
Miles Biked

Kara Sullivan

Rosewood Pedalers

8

11.40*

Todd Kruse

Optivus Physical Therapy

10

10.00**

Dan Choiniere

Optivus Physical Therapy

9

9.20

Arron Kalis

OPS Clinics

10

9.10

Jordan Stenzel

OPS Clinics

3

8.80

Stacee Demmer

OPS Clinics

8

8.70

Amanda Kruse

Optivus Physical Therapy

5

8.60

Stacee Demmer

OPS Clinics

1

8.60

Cam Moore

Sliding Friday

4

8.50

* Biked at alternate location

** Grand Champion @ event location