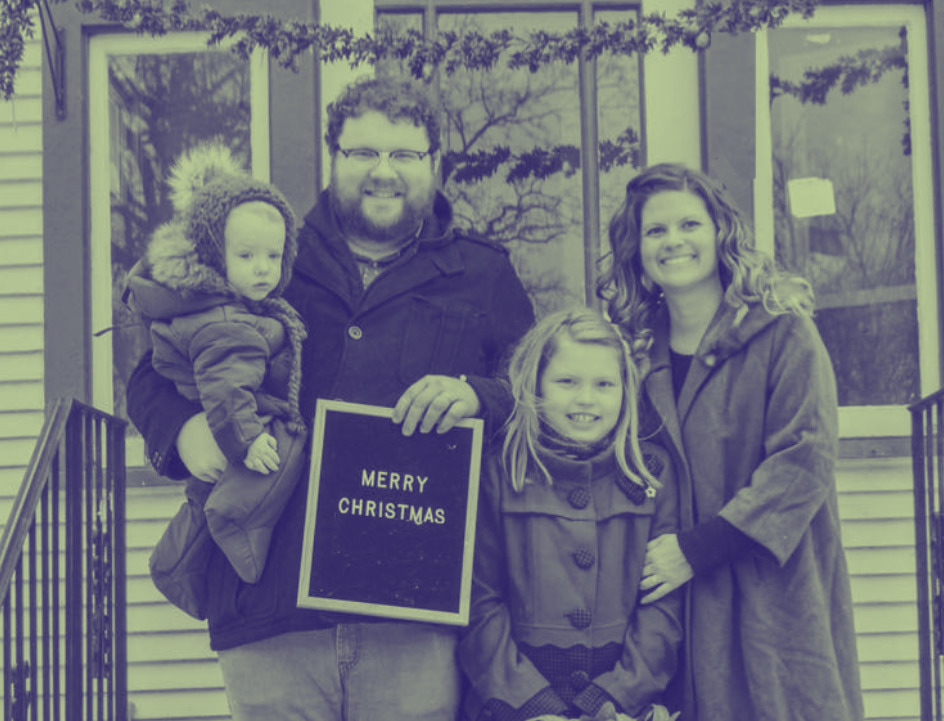 Amber, Scott, Bella and the baby
Like many of us, Amber dreamed about a perfect life when she grew up. However, ten years ago, Amber found herself in a situation she never thought she'd encounter: pregnant and homeless. She had decided to leave her baby's father, so she and her daughter could live a life free of issues that were becoming apparent due to his excessive drinking.
Amber, who was working and going to college at the time, applied for Section 8 housing, only to find out the waiting list was closed. Amber's mother had heard of Partners for Housing's (P4H's) Theresa House shelter, and helped her get connected. Amber fortunately was able to move in right away.
Baby Bella came early, which came with another set of challenges. Partners' staff served as mentors and life-skills navigators, and helped Amber get into Partners' Transitional Housing program so Amber could focus on parenting, working, and going to school.
Since her time spent at Theresa House, Amber has learned the lessons of forgiveness and has made peace with Bella's father. Amber earned an Associate's Degree in Clinical Assisting, and she is now married to Scott, a former coworker, who has known Bella since she was two. He has been very supportive of her success.
"This wasn't how I played Barbies when I was a little girl," she continued, "I always thought, 'school, marriage, house, parenthood', but I took the steps in a different order. It wasn't easy, but it's made me a stronger person. Now I can look back at the struggles, see how I came through, and know that whatever I'm facing now, I will get through it, too."
Amber and Scott have added a son to their family. They have a nice home with a yard for the children to play. Amber is happy to share that this is her Barbie Dreamhouse, all made possible because she got a little help when she needed it.
This isn't how I played Barbies when I was a little girl.
When asked if she had any words of wisdom for other women in her previous situation, Amber shares, "keep thinking positively and believing that you will get out. Where you are today is not where you will be tomorrow. Also celebrate small victories, like getting an A on a test or potty training your child. I hope they feel they are worthy and realize they have the ability to reach their dreams.
Amber adds, "my new dreams are to be out of debt and go back to school for a degree in nursing. Then I want us to see the world."
"Partners was a godsend for me. I had hit rock-bottom and didn't know what resources were available to me," Amber said. "They helped me celebrate small parenting wins and encouraged me to keep persevering. They never made me feel 'less than' for being homeless."
P4H's Transitional Housing Program provides case management and rental assistance for families in similar situations to Amber's. Blue Earth County and neighboring Nicollet County are considered Severe Cost-Burdened and Cost-Burdened counties by State demographers, respectively. This program requires clients to pay 30% of their income towards rent, enabling them to catch up on expenses and save for their future.