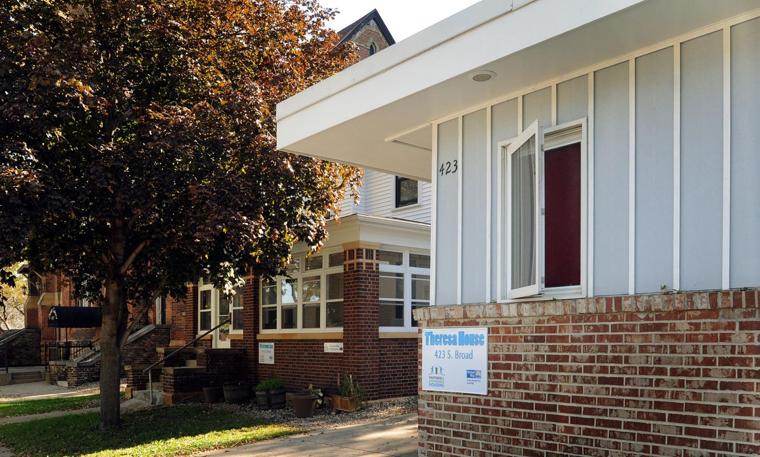 Theresa House
There are 40 to 45 families on a waiting list for Theresa House and Welcome Inn, both on the 400 block of Broad Street in Mankato. Photo by John Cross
MANKATO — Without Partners for Affordable Housing, Gwen Johns and her two sons might still be homeless.
But about 75 days after she moved into the nonprofit's shelter Welcome Inn, the 28-year-old learned she'd been accepted into an affordable housing program.
With support from the housing agency, she was able to secure the family a place of their own. She moved out of Welcome Inn and was almost immediately replaced, her spot taken by yet another woman with nowhere to go, nowhere to live.
Johns may have found a home, but many in Mankato are still struggling.
One way to help them? Partners for Affordable Housing says a larger shelter is at the top of the list.
No room for a bed
"We get calls on an everyday basis from people in immediate need," said Deb Newman, executive director of Partners for Affordable Housing.
Last year alone, more than 960 people were in need of emergency shelter — Newman estimated the nonprofit served only 13 percent of those.
So far this year, 660 people have requested shelter. Between its two facilities downtown, Partners for Affordable Housing can only house 30 at time, including babies.
There are now 40 to 45 families on the waiting list for Theresa House and Welcome Inn, both in the 400 block of Broad Street downtown. More than 300 households are in need of support.
"Because of space issues, we turn way more than we can help," Newman said.
Which is why Partners for Affordable Housing is exploring the possibility of opening a larger shelter as soon as it can.
One recent plan called for a facility on the Good Counsel campus in a building called Marian Hall. It would have expanded the nonprofit's capacity from 30 to 80 shelter beds, Newman said.
But due to the School Sisters of Notre Dame's own space needs, the move was determined unfeasible. Marian Hall is currently a home for retiring nuns, of which there has been an influx of in recent years.
As a result, Partners for Affordable Housing will have to find somewhere else for its new shelter, preferably downtown with easy access to public transportation. Overhead costs will have to be low, as well, with the building either leased to the nonprofit at a nominal cost or donated for use as a shelter.
Community development block grant funds, awarded to cities with populations of at least 50,000, could be used to renovate such a building.
Homelessness on the rise
At last count, there were about 619 homeless people in southeast Minnesota. The Amherst H. Wilder Foundation, a nonprofit social services organization, tallies the number of homeless in Minnesota once every three years, taking one day to do so. The last count was in 2012. The next will take place in October, providing more up-to-date numbers.
Between 2009 and 2012 there was an almost 6 percent increase in homelessness throughout the state, according to the foundation. On any given night in Minnesota, the total number of homeless people is estimated at over 14,000. Nearly half are age 21 and younger.
It's anybody's guess as to whether or not the number of homeless people has increased since 2012. But the demand on local homeless shelters and recent trends in affordable housing seem to suggest it has.
According to a 2013 city of Mankato study, nearly 52.3 percent of renters are cost-burdened. That is, they spend at least 30 percent of their income on housing. More than one-third of renters, or 36.5 percent, spend more than half of their income on housing, the highest figure statewide. (The city plans to update the study this fall.)
Newman said the lack of affordable housing could be contributing to a higher number of homeless people.
Low salaries could also be a factor — a modest two-bedroom apartment costs about $804 per month in Blue Earth County. But the median income is $23,587, which affords only about $590 a month for rent. In Nicollet County the median income is $34,820, which leaves about $871 a month for rent.
A lack of affordable housing purportedly landed one family in a Blue Earth County park this summer. They camped there for some time because they had no where else to live, according to Blue Earth County Commissioner Vance Stuehrenberg.
Andrew Pietsch, supervisor for the South Central Supportive Housing Initiative, says stories like that tend to catch people's attention, bringing light to the issue of the homeless.
But "just sheltering is a Band-Aid on this huge dike," he said.
A larger shelter could give more people a place to get back on their feet, but should not be looked at as a housing option. It only offers temporary shelter, he said.
To help reduce homelessness, the county and other regional organizations need to provide housing assistance and wrap-around services, as well as support to those on the verge of homelessness.
There also needs to be a push toward constructing, if not affordable housing, workplace housing to reduce the demand on the rental market.
"I don't think we'd have problems filling beds in a new shelter," he said. "But what are we going to do to transition them out of that shelter and find them a home?"
Chronic homelessness

The South Central Supportive Housing Initiative, which is a regional cooperative involving Blue Earth, Brown, Faribault, Martin, Le Sueur, Nicollet, Sibley and Watonwan counties, primarily helps those defined as chronically homeless.
Those are people who have been homeless for either one year or have experienced four or more instances of homelessness during the past three years. Pietsch said homeless shelters such as Welcome Inn and Theresa House could help them turn things around.
Take Johns, who moved to Mankato from Minneapolis in August with her 5-year-old son, Rovell, and 8-year-old son, Rovontre.
She had previously been living with her mother in a community rife with violence.
"A little boy got killed right in front of me," she said. "That's when I knew I had to move."
When she first came to Mankato, she stayed with her sons' grandmother. But it wasn't a safe environment, and she was eventually forced to seek emergency shelter.
At Welcome Inn she was able to overcome debilitating anxiety and was referred to a housing program for the chronically homeless.

She filled out applications and did much of the legwork on her own, as is encouraged by Partners for Affordable Housing. But she received incredible moral support from the staff at the shelter, which she credits with her success in finding housing.
When she found out she could finally give her boys a place to call home, she was the happiest she's been in years.
"I cried," she said. "I was overwhelmed. I was joyful."
Onnie Brodkorb, manager of both Welcome Inn and Theresa House, said Johns is one of Partners for Affordable Housing's success stories.
Some that filter through the shelter aren't as fortunate, and those that are not considered chronically homeless are typically eligible for different programs or less intensive support.
Partners for Affordable housing lets people stay at its shelters for 90 days — the average stay is 60 days. After that, they must move out. They can still take advantage of some shelter programming but must find someplace to live on their own.

"We work with our guests a lot," Brodkorb said. "But we are not magicians and can't get them into affordable housing. We do our best, but we can't guarantee anything … Sometimes people leave without letting us know. Some go back to family or find (housing) and take it. It's quick. We don't know how many find affordable housing and how many don't."